Here is an easy, healthy weeknight meal that kids will enjoy too. It is packed with nutrition from the broccoli, the healthy fats of the grass-fed steak and the avocado and all of the nutrients in the sprouts. Do you know how crazy healthy sprouts are? They are literally full of every vitamin and mineral under the sun and they prevent against cancer, anemia and are great for your skin and eyes. I have been on a bit of a sprout kick lately and have found them so easy to add to literally every meal (sandwiches, salads, eggs, etc) I somehow managed to convince my three year old they would give him super-powers with all of its healthy benefits and he eats them now with little to no encouragement.
This takes a tiny bit of prep work with the marinade but overall, it's pretty simple.
Enjoy!
Ingredients:
1 lb grass-fed skirt steak
1-2 hass avocados
1 cup organic rice
1 package living alfalfa sprouts
1 bunch organic broccoli
2 stalks green onion diced
sesame seeds & lime (optional)

For the Marinade:
2 tbsp extra virgin olive oil
4 cloves ground garlic
1 tbsp soy sauce or coconut aminos
2 tsp Chinese five spice blend
1 tsp salt 1 tsp pepper
2 tsp toasted sesame oil
1 tsp apple cider vinegar
For the Spicy Mayo:
3 tbsp organic mayonnaise
1 tbsp honey
1 tbsp soy sauce
2 tbsp red hot chili paste
How to:
1. Add all ingredients for marinade into a zip-lock air-tight freezer bag. Cut the skirt steak into four equal pieces. Run knife along the striations of the meat to improve entrance of flavors. Sprinkle salt and pepper on both sides before placing it in the bag. Mix it up for a few minutes and massage the meat. Marinate for 5 hours to 1 day before.
2. Cook rice and broccoli. (1 cup rice to 2 cups water) When water boils, add rice, turn heat to low and cover for 20 minutes. Steam broccoli in separate pot.
3. Add olive oil to large brimmed stainless steal pan and turn burner to medium/medium-high. Cook the steak on medium-high heat for about 5 minutes on each side, until only slightly pink on the inside.
4. While steak is cooking, make the spicy mayo. Place all ingredients into a small hand blender and blend on high.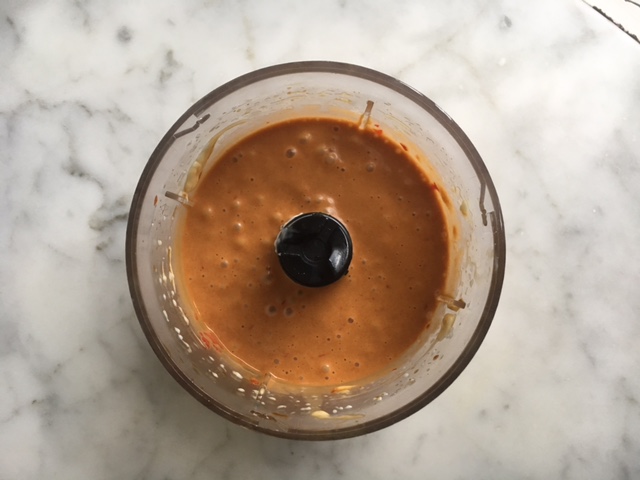 5. Slice steak and assemble avocado, sprouts, broccoli, green onions, steak and spicy mayo atop rice bowl. Add sesame seeds and a splash of lime if you prefer extra flavor.
6. Mix it all up or not if you're like my kids and don't like your foods to touch. 😂 Enjoy!