Any of the products on this page may be an affiliate link. If you click on an affiliate link and make a purchase within a specific amount of time, I get a small commission. The commission is paid by third parties, not by you. I only recommend products that I genuinely love. Thank you for your support!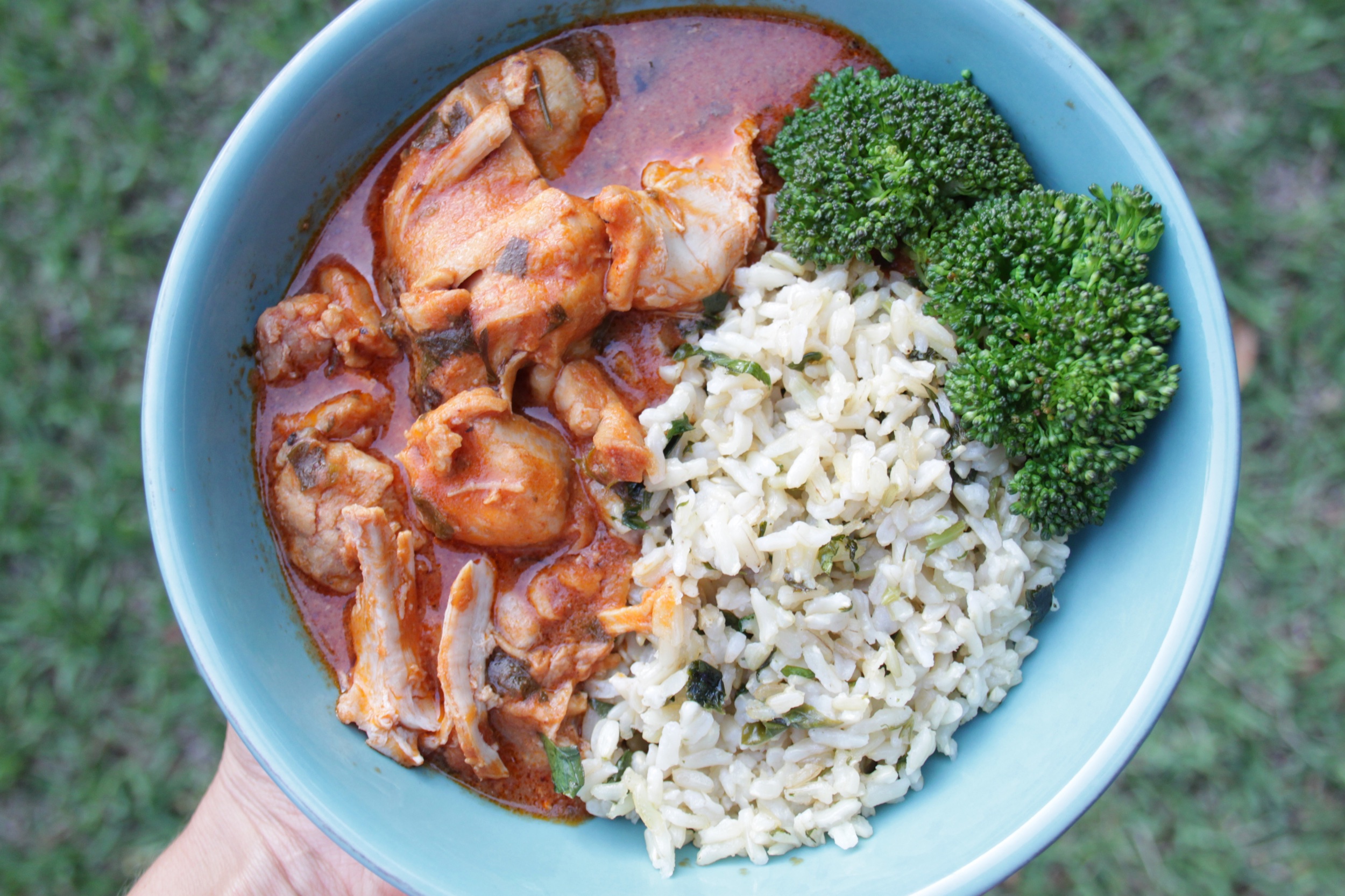 I am a big fan of Indian food and spice for that matter. However, my kids aren't big fans of spice and that's a problem for me sometimes, since we all eat the same meal as eachother around here.
Luckily, Chicken Tikka Masala is a very mild dish and I made this version even more mild for all kiddies at the table. If you've never had Tikka Masala, its a tomato-based creamy buttery dish and it's a really great dish to introduce children to Indian cuisine since its so mild. Also, I love that the parts of it can be deconstructed into different compartments for kids. We put the rice in one area, the chicken in one area and the sauce in another for dipping.
Another selling point for this meal is that it is ready in legitimately 20-30 minutes from start to finish so its a great call for busy mom's like me!
If there is one piece of advice I would give for busy working moms who are trying to eat healthy, it would be to GET an INSTANTPOT!! It will save your life and your sanity. Dinner in 15 mnutes, what could be better for a busy working mom?! Plus they are on sale right now on amazon for $69.95 so what are you waiting for??
You can make this dish in the crockpot or the Instant pot and it is so good and so simple! Great for making ahead of time for left overs throughout the work week as well.
I paired it with some white rice with basil and parsley and some broccoli and it was perfect!
Here's how to make it.
Serves: 4-6
Time: 20-30 minutes
Ingredients:
For the chicken + sauce:
2 packs organic chicken thighs

The cream top from 1 organic full fat coconut milk

2 cloves garlic (shredded)

1 thumb of ginger (peeled and shredded)

1 + 1/4 6 oz cans of tomato paste

1 yellow onion diced

1.5 tbsp garam masala

1 tsp turmeric

1 tsp cumin

1/2 tsp paprika

2 tbsp ghee (this is the brand I use)

1 tbsp coconut oil (to saute)

salt and pepper to taste
For the rice:
1 cup white rice

2 tbsp chopped parsley

1 tbsp chopped basil

2 tbsp extra olive oil
Instructions:
Prepare the rice ahead of time. Add the herbs and oil right on top. Season with salt and pepper and set aside.

In the instant pot, add the coconut oil and turn on the saute feature. Once heated, add the chicken and saute for 5-7 minutes. Then add the onions, garlic and ginger and saute for a few minutes together with the chicken (about 3 minutes)

Turn the saute feature off. Add all the remaining ingredients (the coconut cream, the tomato paste, the ghee and all the seasonings) for the chicken and combine well. Turn on the pressure cook setting for 15 minutes and seal the instant pot.

While the chicken is cooking, steam your broccoli for 10-15 minutes or until slightly tender.

When chicken is finished, serve it over the rice with some broccoli and enjoy!
Made with love,
-Ashley